New York Chiropractic College and Marist College Sign Articulation Agreement
Seneca Falls: New York Chiropractic College (NYCC) will partner with Marist College in Poughkeepsie, N.Y. through an articulation agreement resulting in a new 3+1 dual-degree pre-chiropractic program between the two institutions.

The relationship will enable qualified Marist College students who pursue a baccalaureate of science degree in biology to complete their final year of undergraduate studies at NYCC. This will permit Marist students to earn their baccalaureate and doctoral degrees in six years rather than seven – and to enter the chiropractic profession that much sooner.

NYCC President Dr. Frank Nicchi and Vice President of Enrollment Management Diane Dixon were invited to tour the Marist College campus and meet with relevant administrators who included Marist Vice President of Business Affairs and CFO John Pecchia and Marist's Dean of the School of Science, James W. DuMond.

President Nicchi is pleased with the new relationship: "This is an exciting new program that will expand opportunities for Marist students and facilitate their matriculation at one of the premier institutions of chiropractic education in the country."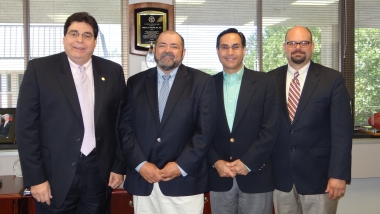 (from left to right): NYCC President, Frank Nicchi, DC, MS; James DuMond, Ph.D., Dean School of Science, Marist College; John Pecchia, MBA, Vice President of Business Affairs and CFO, Marist College, and Michael Mestan, DC, Ed.D, Vice President and Provost NYCC.
About New York Chiropractic College

NYCC, one of the nation's first Chiropractic Colleges, was founded in 1919 as Columbia Institute of Chiropractic. In addition to its Doctor of Chiropractic degree, NYCC also offers master level programs in acupuncture, acupuncture and Oriental medicine, clinical anatomy, applied clinical nutrition, diagnostic imaging, and human anatomy and physiology instruction. The College's health centers in Depew, Long Island, Henrietta and Seneca Falls – and multiple medical centers at State University of New York schools – prepare their student interns through clinical experience at the finest healthcare facilities available. For more information on New York Chiropractic College, please visit:
www.nycc.edu
.
About Marist College

Founded in 1929, Marist's 210-acre campus overlooks the Hudson River in the heart of the historic Hudson Valley, midway between New York City and Albany. A leading college of the arts and sciences, Marist is ecumenical in character and was recognized for excellence by U.S. News & World Report, Time, "The Princeton Review," and by "Barron's Best Buys in College Education."
Share this post: